Remembering Trustee John Medica (MBA '83)
John K. Medica (MBA '83), an internationally recognized technology executive and Wake Forest University Trustee, passed away on Oct. 13, 2017, in Reston, Va. He was 59.
"We are all stunned and suddenly bereft of someone who, in his unique way, formed a special friendship with all of us," remarked Wake Forest University President Nathan O. Hatch. "John made an indelible mark at Wake Forest. From his active engagement as an alumnus to his dedicated service as a Trustee to his extraordinary commitment to Wake Forest being a place that educates students to be leaders of character, he proved the spirit of Pro Humanitate. John, a friend and stalwart Wake Forester, will be profoundly missed."
Those who knew John were acutely aware of his robust sense of humor, strategic risk-taking, straightforward manner and gracious generosity.
"John's zest for life was contagious," reflected Don Flow (MBA '83), a fellow classmate and University Trustee. "His boisterous laugh brought joy to anyone in his presence and his kind and generous thoughtfulness was a profound expression of how much he cared for all of the people in his life."
John was born on Aug. 23, 1958, in Ridgewood, N.J., to Adolph and Helen Medica. He took great pride in being a native New Yorker and was a loyal, lifelong fan of his hometown Yankees. After earning a Bachelor of Science in electrical engineering from Manhattan College, he traveled south and enrolled at Wake Forest's Babcock Graduate School of Management. As he was pursuing his MBA, he was also captivated by another student – Megan Salzman (MA '83). The two smitten graduate students completed their degrees and then were married in 1985.
John started his career at Apple, Inc. With an eye for innovation, he led the product development teams for the tech giant's Powerbook series of computers. According to a 1994 New York Times article, John had "a reputation as one of the stars of the notebook computer business."
After a decade at Apple, Michael Dell wooed John to his company hoping to use the young leader's vision and expertise to untangle a challenging situation and gain footing in a growing and competitive market. (According to lore, Dell asked John what it would take to leave Apple and take a position at Dell. John replied, "I'd like to take my dog to work.")
In a bold move, the new then-35-year-old vice president of portable products convinced the leaders around Dell's board table to abandon their current plans and start over with a new portable computer line. It was a choice that would cause a dip in Dell's quarterly profits and consumer perceptions. But Dell was preparing for a comeback – one that John knew would take several years and much of his blood and sweat. John worked tirelessly and was constantly supported by those he loved. He clocked hundreds of thousands of air miles in just a handful of months; Megan would greet him at the airport with a smile and a name sign – "in case I forgot who I belonged to," John once explained. Most nights and weekends, he could be found at the office; his Old English Sheepdog, Maggie, usually went with him.
His strategy to rebuild the brand the right way over a period of time paid off for the tech company, and John continued to push the high-tech industry toward the furthest edges of innovation. In 2007, after 14 years with Dell, John retired as senior vice president and co-leader of the product development organization.
It was around that time that John, a member of the Wake Forest School of Business Board of Visitors since 2001, joined the campus community as an executive in residence. He generously shared his experience and expertise with students, faculty, staff and alumni.

Too creative to stray far from technology, John returned to the industry and served seven years as vice chairman and group corporate advisor for Compal Electronics, Inc., a company based in Taiwan. He also served on the board of directors for National Instruments Corporation. At the time of his death, John served on the boards of Electro Scientific Industries, Inc., Artificial Solutions, Inc. and Wake Forest University.
When he wasn't pursuing solutions in technology, he was spending time with Megan and his family, sailing, playing golf, championing animal welfare and rescue groups, and offering his expertise to the world of higher education. He had also recently started working with the Boys and Girls Clubs of America.
Though they were longtime residents of The Plains, Va., the Medicas had traveled the world, and had called many places home – from Maine to Florida, Texas to Japan, New York to California. But one of the communities they cherished most was the one they found at Wake Forest.
John not only invested time at the Business School as a board member and an executive in residence, but he and Megan were part of the visionaries who saw and supported the construction of Farrell Hall, including the Dean's Suite which now bears their name. John became a University Trustee in 2009 and served on the academic, finance, investment and administration committees. He was the current chair of the Board's innovation committee.
"John loved to be challenged by big problems and big ideas," Flow commented. "His personal confidence inspired others to believe that it was possible to achieve the task before them, and his humility meant that he was willing to listen to all of the points of view in the room. He had an extraordinary ability to encourage people from all walks of life. John was a wonderful mixture of being both decisive and open-minded, serious and playful, challenging and caring. John made a distinctive difference in the life of every person who knew him."
"John never met a problem or an issue that could not be resolved starting with a bit of ironic humor, followed by his infectious smile and vigorous head-bobbing chuckle. " David Dupree (MBA '78, P '20), University Trustee
But it was another group of Wake Foresters that kept the Medicas watching their phones for text message updates on weekends. A few years ago, Megan, an active college debate team member, introduced her husband to the world of debate. He became enthralled with the activity, and the two quickly turned into avid supporters of the team.
"Mr. Medica always offered an immense amount of support to me and the other debaters," remembered Corinne Sugino ('17), a semi-finalist at the 2017 National Debate Tournament. "He was so kind and always took the time to speak to me and get to know me personally when he visited the team."
A few years ago, the Medicas joined the team as they were preparing to defend the ACC championship. The topic was gun control on college campuses, and the debaters were trying to think of a creative way to resolve the best arguments in favor of gun control without having to agree to the entire proposition. The strategy is extremely powerful, but it requires a type of strategic mind that few people have without intense argument training.
John listened to the entire practice debate and then asked, "What would this policy do to the military academies?" Megan nodded and added, "I don't think we want those students to be ignorant of how to use a gun." Just like that, the debaters had their strategy.
The argument was saved for the final round and deployed with great success – a unanimous, 3-0 decision. It was the teamwork and creative thinking of the Medicas that led to a second straight ACC championship.
"John was amazing with the debaters, and they loved every chance they had to bounce arguments off of him and hear his own stories of triumph in the highly competitive world in which he led," said Director of Debate and Associate Professor Jarrod Atchison ('01, MA '03). "The truth is that John and Megan's support has made all the difference for the debate program. They have quite literally changed the lives of our students, and we owe them both a debt of gratitude. I can say without hesitation that their generosity and support is the primary reason that we have been able to expand the size and diversity of the team without sacrificing competitive success."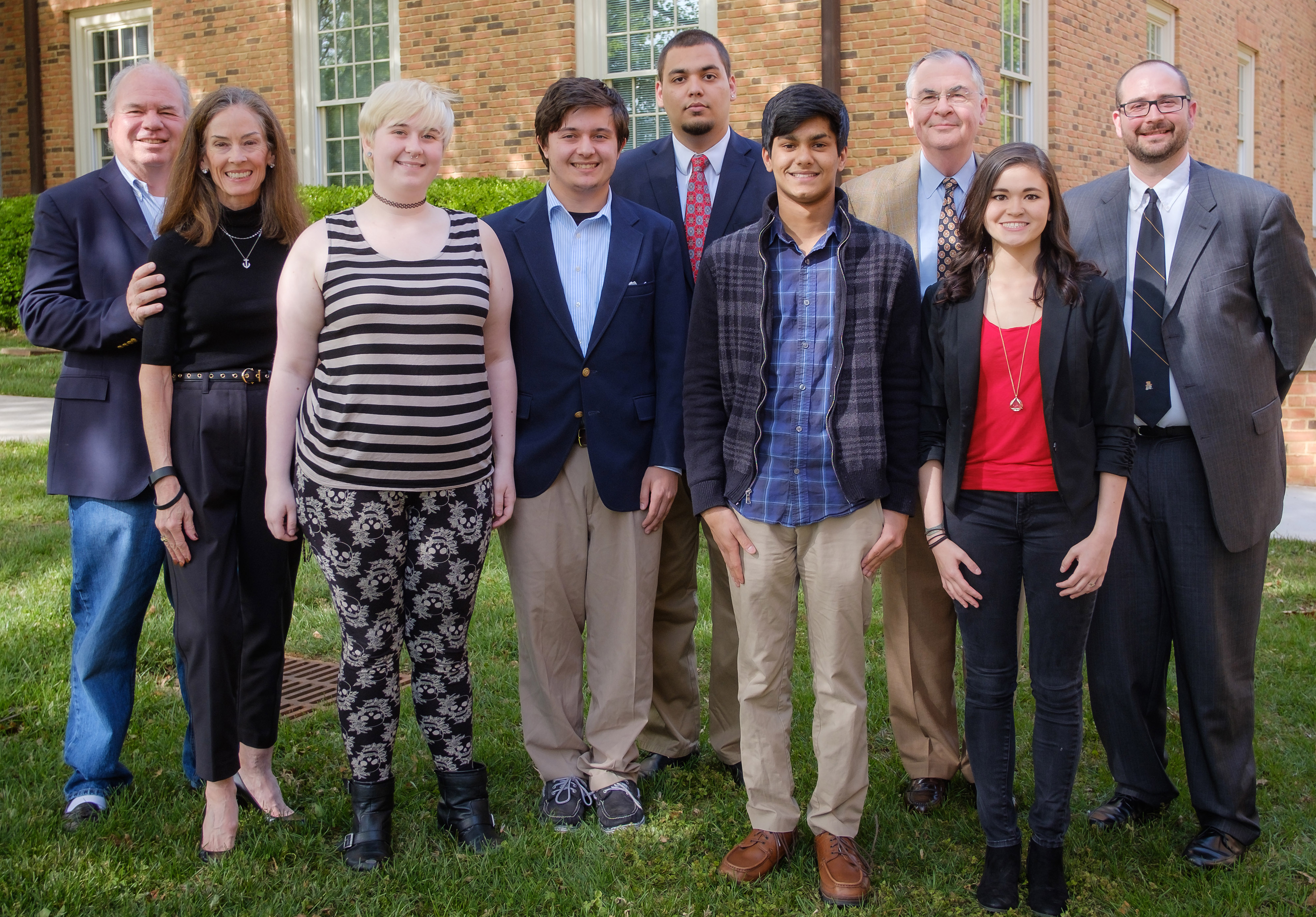 Charles Athanasopoulos ('18), also a semi-finalist at the 2017 National Debate Tournament, recalled his time with John. "John Medica's commitment to our debate team reveals the philanthropic nature of his personality. He genuinely wanted us to succeed – no matter what we thought about the world. The opportunity itself was the important thing for him. Mr. Medica was not only a successful businessman, but a loving husband and kind human being. I know I will find solace in not only the impressive legacy that he has left behind, but the down-to-earth human interaction he provided me."
In addition to his wife of 32 years, Megan Salzman Medica, John is survived by a brother, James B. Medica; a brother-in-law, Joseph M. Salzman; a sister-in-law, Kimberly C. Medica; two nephews, John Paul and Owen Christopher; and a niece, Lauren Holly. He is also survived by an uncle, Pat Santoro, an aunt, Donna Medica, and many first and second cousins. He was preceded in death by his parents, several aunts and uncles, and a cousin.
A private memorial mass and celebration of John's life is being planned for January 2018. Condolences may be sent to P.O. Box 244, Middleburg, VA 20118. In lieu of flowers, the family requests memorial contributions be made in John's name to the John Medica Fund for Wake Forest Debate, Wreaths Across America, Best Friends Animal Society or your local first responders organizations.